HIGH-POTENTIAL EMPLOYEES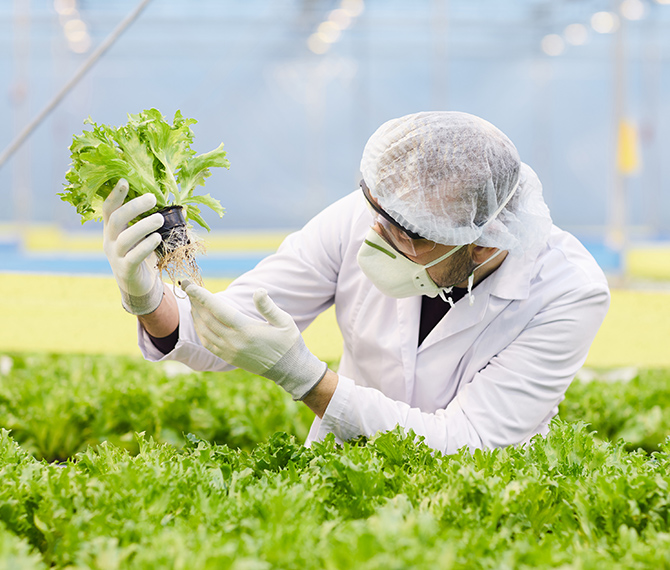 Our recruitment criteria
Those who are interested in the social implementation of new science and technology.
Those who are interested in being involved in the creation of new businesses as founding member and want to be involved in all of the company's businesses.
Those who are interested in participating in startups in the fields of agriculture and chemistry.
MISSION
Greenfulness
-Surviving Climate Change Together-
VISION
We use the power of science to unlock the potential of plants and enable them to grow in a variety of environments. We are a Japan-based agribio-venture that uses plant science to tackle global issues. In support of the SDGs, we are working to solve food problems such as starvation and malnutrition caused by damage to plant resource production caused by extreme weather conditions, which are considered a worldwide problem. In addition, by contributing to environmental conservation through the greening of deserts and the restoration of forests, the efficient use of natural resources through water conservation, and the reduction of plant production management costs, we will realize a planet where people around the world can continue to live in affluence.
Value
3Rs
Radical: Can you see things from a high perspective and take action on your own initiative?
Respect: Do you have respect for the people around you and can you be respected?
Responsibility: Do you have the tenacity to get things done? Responsibility: Do you have the tenacity to get things done, and are you professional and results-oriented?
RECRUITMENT PROCESS
01

Entry

02

Document Screening

03

First interview (employee)

04

Second interview (executive)

05

Final interview (President)

06

Offer of employment

07

Joining the company
Business Development
Duties

Business Development

Job Description

As a venture company in its early stages, there are no fixed duties. We are looking for people who can find the best position to maximize their abilities and take the initiative to grow the company and business.

<Work examples>

Business and management planning
Marketing
Product planning, research, and development
General corporate operations
Human Resources, Marketing

Attraction

You will be able to be involved as a founding member.
You will have the experience of working with a small group of elite members to expand the company while making speedy decisions.
You can become a pioneer in the biostimulant industry, which is growing rapidly mainly in Europe and the US, in Japan, and around the world.
As an agri-tech company from Japan, you will have a dynamic experience to go global.
You will be involved in the global expansion not only in Asia but also in all continents and regions.
As a bridge between academia and business, you can contribute to the social implementation of basic research and technology.
You will be involved in the SDGs business, which aims to solve environmental and food problems.

Personality profile

Those who want to challenge to solve global issues such as climate change and food problems through the social implementation of science and technology.
Those who want to be involved in the business as a founding member.
Those who are interested in startups in the agriculture and biotechnology fields.
Those who want to challenge in an environment with momentum, regardless of the size of the company.
Those who can create their work based on the company's situation.
The person who can create work by himself/herself by observing the situation of the company ・The person who can respond flexibly without sticking to his/her specialty or one work

Essential requirements

The person who can empathize with the mission, vision, and values of the company.
Those who are interested in solving social problems, such as environmental and food issues.
Basic PC operation and office operation (Word, Excel, PowerPoint).

Welcome requirements

Background and knowledge in agriculture, chemistry, or biotechnology
Business-level English skills and experience studying or working abroad
Experience working in a start-up company.
Experience in one of the following
-Experience as a business manager or a person in charge of launching and promoting new businesses
-Experience working across multiple roles
-Experience in charge of a business that utilizes science and technology
-Experience working in a start-up or similar growth company
-Experience in intellectual property-related work

Employment Type

Regular employee

Salary

To be determined based on previous salary, experience, and ability.
Trial period: 3 months after joining the company (no change in salary)

Bonus

Paid once a year depending on the performance

Salary increase

Assessed once a year at the timing of the bonus

Work location

Chidori Building 3F, 2-16-9 Yushima, Bunkyo-Ku, Tokyo
Introduction of remote work

Working hours

Flextime system
Core time is 10:00~16:00, with 8 hours of actual work.

Benefits

Transportation expenses paid (upper limit: 30,000 yen per month)
Social insurance (health, pension, unemployment, and worker's compensation insurance), periodic health checkups (once a year)
Retirement allowance system

Vacations and vacations

Two days off per week
National holidays, GW vacations, summer vacations, year-end and New Year vacations, annual paid vacations (half-day leave allowed, 10 days in the first year)
Nursing care for parents, nursing care for children, congratulation or condolence leave