PRODUCTS
Skeepon Turf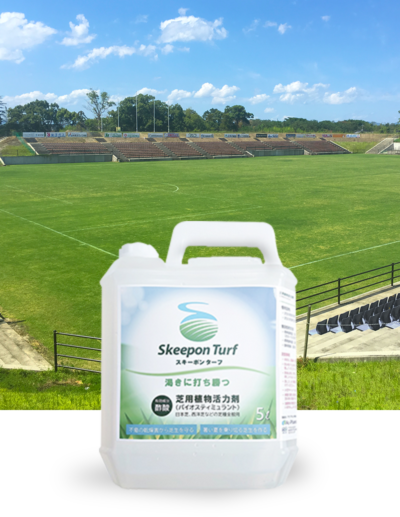 Skeepon Turf is a product for lawns. The active ingredient, acetic acid, protects the lawn from high temperature and dryness. This helps maintain lawns by reducing the frequency and amount of irrigation (water conservation) by improving the lawn's resistance to drying and maintaining quality during high summer temperatures by improving heat resistance.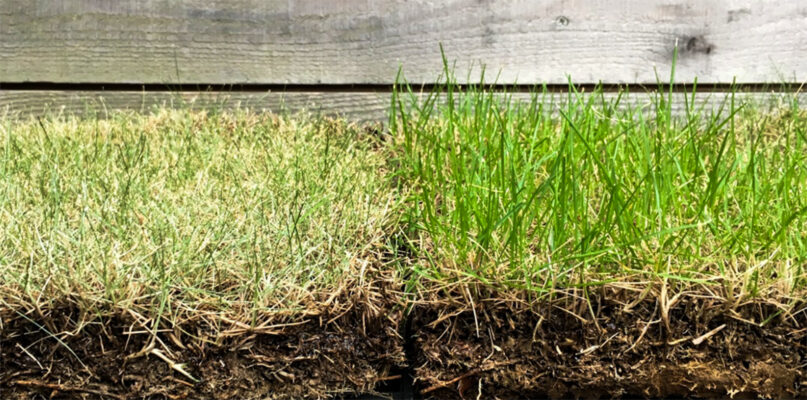 Buy a sheet of Korai grass (30cm x 40cm) at a home center. 2) Water the turf for about a week, let it grow, and then water it with 250ml of water or 250ml of 250 times diluted turf using a water filter. The results of leaving the plants in a plastic greenhouse for one week without water supply.
PRODUCT DETAILS
Capacity

5L

Applicable plants

Japanese lawn, Western lawn, and all other grass species

Usage scenario

Heat protection
Heat resistance is improved to prevent heat-induced summer dieback.

Reduction of watering time
Increasing the drought tolerance of turf reduces the frequency of irrigation and reduces the number of manual watering in summer.

Elimination of dry spots
Spraying on areas prone to dry spots will reduce their occurrence.

How to use

Standard application rate
1 to 2 ml/m2 (Apply at 200 to 500 times)

Standard spray volume
250 ml/m2 or more

Spraying interval
About once a week in summer, about twice a month in non-summer.

Effects of use

Reduction in the number and amount of irrigations (water conservation) due to improved lawn drought resistance

Improvement of heat resistance of lawn to maintain quality in high temperature in summer

Precautions for use

Avoid direct contact with stems and leaves, but avoid contact with flowers and other weak parts of plants.
If the soil is not sufficiently dry, it will be difficult to obtain the desired effect.
Be careful not to accidentally swallow or eat the product. If swallowed by mistake, spit it out and seek medical attention immediately.
In case of contact with eyes, rinse with water immediately and consult an ophthalmologist.
In case of contact with skin, wash off immediately with soap and water.
When storing, keep tightly closed, away from fire and direct sunlight, and keep out of reach of children.

Sales URL

Toyo Green Site:https://www.toyo-green.com/products/detail/id=628
OTHER PRODUCTS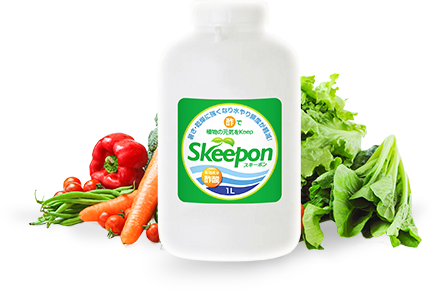 Skeepon
Skeepon is an agricultural product suitable for the growth of a wide range of crops in general. It is a safe and reliable product based on acetic acid, the main ingredient of vinegar, which is known for its health benefits and is not a pesticide or fertilizer. At the same time, the product is friendly to both people and the earth, as it makes plants resistant to dryness, high temperatures, and salt damage.