Japanese biostimulant startup "Ac-Planta Inc." raises US $1.2 million in pre-Series A.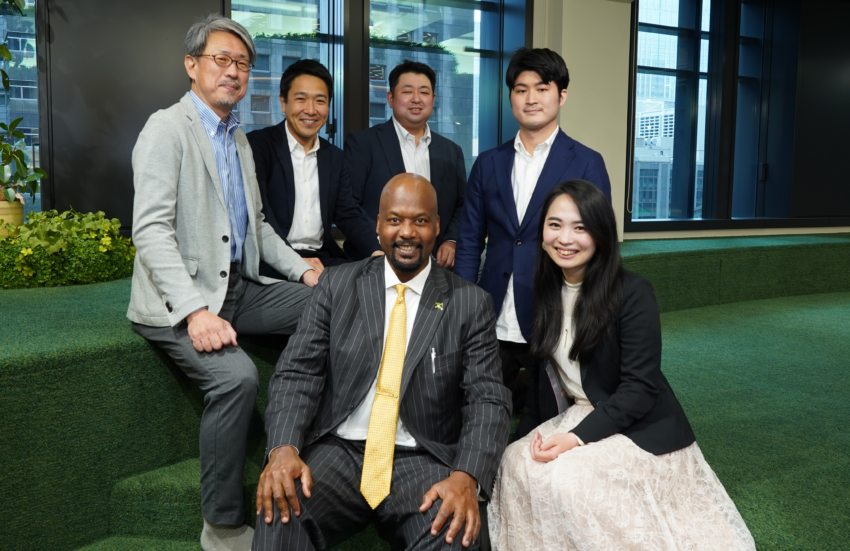 [Press Release] TOKYO, 2022, April 20 – Ac-Planta Inc., a startup that develops biostimulants to increase the drought and high temperature tolerance of plants, recently announced that the company has raised US $1.2 million (JPY 150 million)at the first close of pre-Series A funding round. The latest funding was led by Norinchukin Innovation Investment Limited Partnership (GP: Global Brain Corporation (Tokyo, Japan).), KH Neochem Co., Ltd. (Tokyo, Japan) and SMBC Venture Capital No. 6 Investment Limited Partnership (Tokyo, Japan).
About Ac-Planta Inc.
Ac-Planta Inc. is an Agri-Bio startup that develops biostimulants to protect plants from various environmental stresses, with the mission of "Greenfulness – Living with Climate Change". Biostimulants are a group of materials that have a positive effect on plants in terms of stress tolerance, yield and quality, post-harvest condition and storage by utilizing the natural forces inherent in plants and their surrounding environment. Against the background of the effects of climate change in the agricultural sector and the growing awareness of the need to reduce pesticides and chemical fertilizers, the number of users of biostimulants is increasing rapidly around the world, particularly in Europe and the USA.
Currently, we are developing the Skeepon series of biostimulants based on the mechanism that acetic acid increases the drought tolerance of plants (Fig. 1), which was discovered by founder Dr. Kim through his research on environmental stress and epigenetics* in plants when he was a researcher at the RIKEN Institute of Physical and Chemical Research. We sell Skeepon, which, when administered to plants, increases the plants' own tolerance to drought and high temperatures, enabling them to sustain growth in harsh environments and reducing plant losses. Skeepon was launched in Japan in 2019 and to date, more than 10,000 liters have been sold, mainly to farmers and golf courses across Japan.
*Epigenetics: refers to the systems that regulate and transmit gene expression independent of changes in DNA sequence and the academic field of epigenetics.
Fig.1: Mechanisms related to drought-tolerance functions and acetic acid in plants.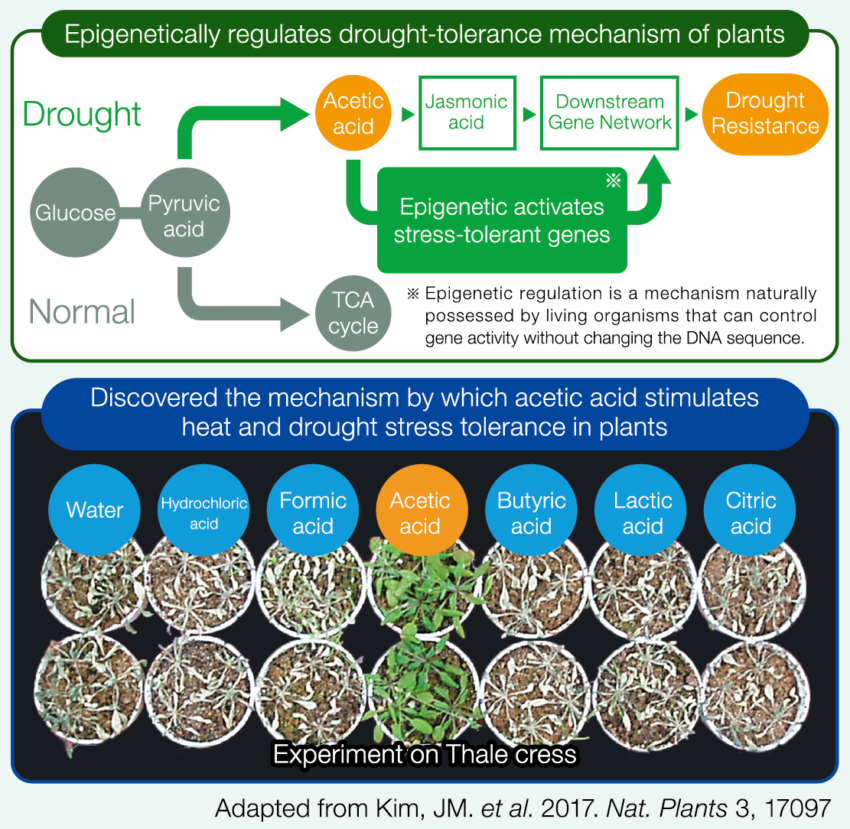 Through the development of biostimulants and research and development in the field of plants, we aim to solve food problems such as damage to plant resource production, hunger and malnutrition caused by extreme weather conditions, which is a global issue. In addition, by contributing to environmental conservation through the greening of deserts and the restoration of forests, the efficient use of natural resources through water conservation, and the reduction of plant production and management costs, we are working to realize a planet where people around the world can continue to live in contentment.
Purpose of financing
With a view to further accelerating overseas expansion, the main purpose of the funding is to develop products overseas and to build a global team; actively recruiting for various positions, including CXO candidates, overseas business development personnel and researchers in various related fields, in order to strengthen the organizational infrastructure.
Recruiting Information
We are looking for the following people who share our mission and vision
・Those who are interested in solving global social issues.
・Those who are willing to work together to create a global startup.
・Those who are interested in the social implementation of science and technology.
・Those who are interested in developing new businesses as a second founding member.
・Those who wish to use their background and expertise in agriculture, chemistry and environmental science.
For more information, see our recruitment site.
Investors' comment/Background of the investment and their expectations
・Hiroaki Shiraishi, Digital Innovation Division Senior Manager of Norinchukin Bank
Global environment is facing serious issues and we believe that Ac-Planta is providing unique solution towards those issues underpinned by Dr. Kim's academic expertise. We are pleased to announce our investment to Ac-Planta, which will bring large impact on building sustainable environment and food production, and excited to embark on our collaboration going forward.
・Yasuhiko Yurimoto, CEO of Global Brain Corporation
As the impact of climate change is becoming increasingly evident in many domains, the impact of extreme weather and water shortage on agriculture is particularly severe. Ac-Planta is tackling agricultural issues based on the findings from the latest research on epigenetics in plants. We have decided to invest in the company, being highly impressed by its advanced R&D capabilities and strong passion for solving food problems. We will fully support Ac-Planta in globally expanding its business.
・Yukihiro Isogai, Board Director and Senior Corporate Officer of KH Neochem Co., Ltd.
As global environmental problems become more serious, we strongly sympathize with the vision of unleashing the potential of plants through the power of science and enabling them to grow in diverse environments. In addition to contributing to solving food problems, this technology is also very attractive for the development of chemical products using biomass raw materials, a market that is expanding. We look forward to working together to enhance the corporate value of both companies in the future.
・Akira Ochiai, CEO of SMBC Venture Capital Co., Ltd.
As food problems caused by climate change, natural disasters, and population growth become more serious worldwide, there is a need for advanced technologies that can change agriculture. Ac-Planta's technology will revolutionize agriculture in harsh natural environments. We have invested in this company not only because of its innovative nature, but also because it is a technology with a high level of social applicability. The SMBC Group looks forward to supporting the growth of their business in the future.
Management Team

Founder & CEO
Jong-Myong Kim Ph.D.
Dr. Jong-Myong KIM is the founder and CEO of Ac-Planta Inc. Dr. Kim received his Ph.D. in Bioscience from Nara Institute of Science and Technology, Japan in 2001. He then discovered an essential mechanism of amino acid metabolisms for mitochondrial DNA maintenance. Subsequently, Dr. Kim conducted an epigenetics study in yeast as a post-doctoral fellow in Prof. Michael Grunstein's Lab., Molecular Biology Institute at UCLA.
After returning to Japan, he joined the RIKEN Plant Science Center, where he pioneered plant research linking environmental stress and epigenetics. Based on this research, he discovered that all plants could tolerate water deficit stress using acetic acid (Kim et al., 2017 Nature Plants).
In order to expedite the application of his findings to benefit society and to help top resolve the global food crisis and environmental problems caused by global warming, he established Ac-Planta Inc. and became CEO. He is also an Associate Professor at the Graduate School of Agricultural and Life Sciences at the University of Tokyo.

Director COO
Koji Nakasaka

While studying at the Graduate School of Environmental Studies, Hokkaido University, Nakasaka saw the deep relationship between environmental problems and society while researching forest fires in Mongolia. These observations led him to question the nature of a sustainable society.
After graduating from graduate school, he worked for a trading and investment company for three years but decided that he needed expertise and colleagues with global exposure to create the business that he wanted. During his internship, he worked at the International Institute of Tropical Agriculture (IITA) in Ghana to promote bio-inoculants.
Later, after working in international development and smart agriculture, he joined Ac-Planta as COO to realize a sustainable global society.
Outline
Company name: Ac-Planta Inc.
CEO:Kim, Jong-Myong.
Address:Chidori Building 3F, 2-16-9 Yushima, Bunkyo-Ku, Tokyo 113-0034, Japan
Date of establishment:February 7, 2018
Mail Address/ Phone Number:info@ac-planta.com / +8103-4405-1625
Business Description:Research, development, production and marketing of biostimulants with resistance to dryness, high temperatures and salt damage.
Media Contact:
URL:https://ac-planta.com/en/info/
COO Koji Nakasaka / PR Erina Isshiki